Hours of Operation:
Lunch Monday - Friday Lunch 11am - 5pm*
Lunch + Dinner + Live Music Saturday 11am - 3pm*
Brunch + Live Music Sunday 10:30am - 2pm
*Open till 11pm for Live Music Schedule

Coming Soon:

Buy Tickets for Walt Wilkins May 16th 2014
Hot Tamales and other items to go?
Please give us an hour to prepair order larger than 2 dozen. Especially, if you'd like fresh rice and beans, guacamole, queso, or fresh our pico.

Frozen tamales to-go?
Come on down and pick them up! No phone call necessary.
Catering:
Want to ask us about catering? You'll be glad you did! What you see on the catering menu is a sampling of items. No two caterings we do are alike. Talk to us about your event and we will come up with 3 options for you to choose from. Or, give us a ballpark how much you want to spend per person and we'll give you a very nice menu is sure to please you and your guests.
CATERING MENU | LUNCH MENU | BRUNCH MENU | DAILY LUNCH SPECIALS

HOT DAMN ART GALLERY | LIVE MUSIC SCHEDULE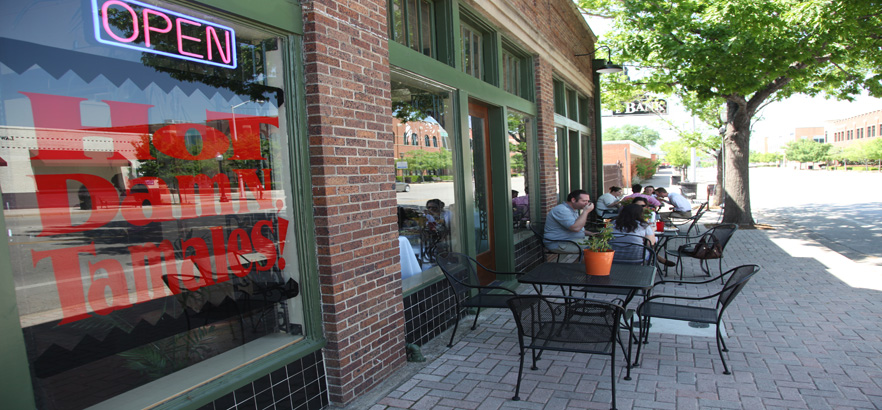 Next time you're in Fort Worth, visit Hot Damn, Tamales! restaurant at 713 W. Magnolia Avenue, Fort Worth, TX 76104. We serve 15 flavors of specialty gourmet tamales daily. We have expanded our seating area to occupy up to 49 people! Plus we are now open 7 days a week. On Sundays we serve a gourmet brunch buffet and each brunch is different. Come on over and enjoy our delicious gourmet tamales.
Give us a call at 817-926-9909 or use our toll free number 1-877-826-2539 to place your orders.
Reserving the Restaurant:
Plan a party, social gathering, rehersal dinner, graduation party, milestone birthday, retirement party, monthly meeting, in our unique and enjoyable restaurant space. Our building was built in 1927. We offer private accomidations and a comfortable atmosphere. Please contact us to discuss time and details. Thank you!
817-926-9909
Restaurant hours:
MONDAY - THURSDAY 11am to 5pm Lunch

FRIDAY & SATURDAY 11am to 10pm Lunch & Dinner Menu

SUNDAY 10:30am to 2pm Brunch
Come see us!